Plaster and Stucco Repairs
(we know exactly how to transform your exterior!)

Stucco Resurfacing
Although its composition has been modified since the 1800's, stucco has been used as a reliable and durable wall cladding since ancient times. Like any other cladding, stucco requires maintenance. Stucco, by nature, is brittle and has limited ability to tolerate building movement and freeze/thaw cycles. It cracks. Repair of minor hairline cracks is not critical or urgent, but as cracks spread and grow, they create potential for several undesirable and potentially costly conditions such as moisture intrusion, damage to the building's framing, leaks into the interior, etc.

Repairs Designed to Last
The common practice of patching and painting stucco cracks is only a short term fix. New cracks will appear and patched cracks will reappear. Paint can also lose its bond, creating additional maintenance challenges. Finestone offers a longer-lasting approach to stucco repair. A Finestone Stucco Resurfacing System creates a beautifully colored, textured and reinforced skin over the stucco surface. In addition to covering cracks for wall protection, its reinforced acrylic base coat and finish are able to resist new cracking.


---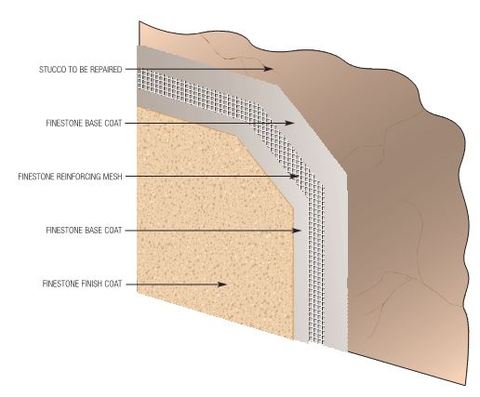 Benefits include:
Finestone Stucco Resurfacing Systems are the only approach to repair that truly adds crack resistance over the existing stucco wall;

They provide a longer lasting approach to repairs – colored finishes are fade – crack – and
peel-resistant. Composed of acrylic and cement materials, the base coats are compatible with stucco and will not lose their bond;

They provide added weather resistance, protecting even against wind driven rain;

With their inherent high water vapor permeability, they allow the wall to breathe, a necessity for long term performance;

They yield a more uniform appearance; the building looks better from the street and the
walls look better close up;

With their wide adaptability and their easy integration of shapes, they
expand design flexibility with superior aesthetics, enabling the
total transformation of a building's appearance;
---
BASF Stucco Resurfacing

"The life cycle costs of Finestone Stucco Resurfacing Systems represents a significant savings over traditional repair techniques."

Finestone Stucco Resurfacing Systems are the smartest approach yet to stucco repair. Their life cycle cost represents a significant savings over traditional repair techniques. Standard repairs most often include patching holes and cracks with stucco brown coat and finishing with acrylic or elastomeric paint, colored stucco or other finishing products, or simply filling cracks with caulk and then painting.

---










Reasons to consider Finestone ® Wall Systems

Proven track record The Finestone brand of coatings dates back to 1962.
Single source warranty BASF stands behind the cladding and sealant
Technical support.
Vast, strategically located distributor network
Wide flexibility in aesthetics. Color, texture and form.
Totally transform a building's appearance.
Performance Construction approved and experienced applicator.
Backed by
BASF, the world's largest chemical company.









---
---
---
Stucco Resurfacing System Components
---